Your Dream Home is as Easy as 1, 2, 3 with Thinstone Ireland
Our team will advise you on the seven different stones we offer.
Those are Creggaun, Derryclare, Kilkenny, Glenmore, Benbrack, Carraig and Donegal Sandstone
Just take a shot of your housefront, your porch, your sunroom or wall and e-mail that to us.
If it is a new build, or an extension, please e-mail your plans.
We deliver your stone and our stonemasons come and carry out your stonework.
Our stonemasons are true craftsmen and take great pride in their work.
Here at our stone-yard in Westport we cut away the face from each piece of heavy stone to make ThinStone.
This is 100% natural stone, but now with a thickness of only one inch.This can then be fixed on directly to the wall like a heavy tile.
This direct fixing method and the lower weight gives ThinStone many advantages and cost savings as against using heavy building stone with eight inch thickness.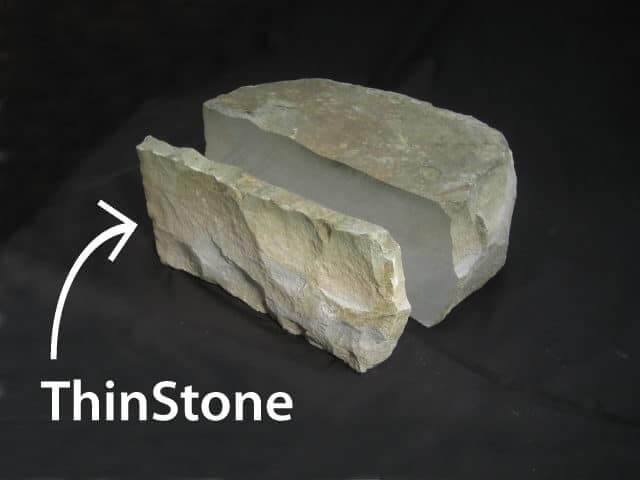 Click an image below to open gallery
The benefits of installing Thinstone
We love adding stonework to porches and sunrooms and we carry out this type of project every week. Check out some of the projects above.
A typical porch takes only three days to complete and yet it adds a whole new dimension and a different look to your home.
Costs would typically range from €2,200 to €2,900 including all stone, mortars and labour.
You can send us your photo or drawing and we will give you a quotation.
ThinStone is 100% natural stone, (not a copy made from cement )
Far less costly than building stone because of the lesser thickness and
lower weight
Lets in more sunlight to your porch
An easy simple solution for existing porches as the roof overhangs
will not generally allow for using full thickness building stone
Simplifies the build details and support issues on new builds
Environmentally friendly as a far less natural stone is used
Maintenance free for a lifetime
We love the ThinStone and it makes the house more compact and has given it a huge facelift.
Mary Kearns
Finny, Mayo
Highly recommended! Workmanship has been excellent and the stonemasons tidied up after themselves.
Fran
Meath
Great Work - not a stone out of place when Niall finished. 10 out of 10! Highly Recommend Niall and Thin Stone.....
Damien O'Sullivan
Cork
We sourced our stone from Thinstone Ireland who were fantastic to deal with. The final result is spectacular. Five stars and many thanks to Declan and Jarlath for your care and attention.
Brian Hunt
Mayo
ThinStone were extremely efficient and the finished stonework is exactly what we were looking for!
John
Charlestown
Absolutely delighted with my house.. The service and workmanship is 5 star. I would highly recommend ThinStone Ireland.
Anne
Limerick
Loved the finished project. The stone looked even better than we expected!
Paul
Galway
The quality of your stonework on my fireplace and outside walls was exceptional. Jack and Padraig are great stonemasons. I am really pleased.
Eddie
Galway
Thanks to ThinStone Ireland for the hard work and great service.
Ann
Sligo
The best decision we made when building our home.
Jillian
Westport
Just wish to say that Kieran and Connor in Donegal were excellent... very professional, helpful and their work is fantastic.
Christine Rochett
Donegal